Part1

Part2
Download Instruction Manual(V3.0) Download Brochure(V1.0) Transceivers Set
The mAT-K100 provides automatic antenna tuning across the entire HF spectrum plus 6 meters, at power levels up to 120 watts. It will tune dipoles, verticals, Yagis, or virtually any coax-fed antenna. It will match an amazing range of antennas and impedances, far greater than some other tuners you may have considered, including the built-in tuners on many radios.
The mAT-K100 is an automatic antenna tuner specially designed for modern ICOM and KENWOOD HF transceivers. It has two control cables to choose from: mAT-CI and mAT-CK. They are suitable for ICOM and KENWOOD transceivers respectively. With matching control cables, tuners can be used for corresponding transceivers. mAT-K100 standard accessories only contain KENWOOD control cable mAT-CK, if you need mAT-CI, please buy more.
When mAT-K100 is used in ICOM transceiver through mAT-CI control cable, it is fully compatible with the original AH-3 and AH-4 automatic tuners of ICOM. Transceivers that can use both ICOM tuners can also use mAT-K100, which includes IC-706, 703, 718, 7000, 7100, 7200, 7300, 7410, 746, 756, 7600 series transceivers.
When the tuner is used in KENWOOD transceiver through mAT-CK control cable, it is fully compatible with KENWOOD original tuners, such as AT-250, AT-300. KENWOOD transceivers that can use mAT-K100 are TRC-80, TK-80, TS-2000, 50, 450, 480SAT (excluding HX version), 570, 590, 850, 870, 990, etc. Other types of transceivers can use mAT-K100 as long as they support KENWOOD AT-300 tuners. KENWOOD TS-430, TS-440 are too old to use this tuner.
The mAT-K100 has 16,000 frequency memories. When tuning on or near a previously tuned frequency, the mAT-K100 uses "Memory Tune" to recall the previous tuning parameters in a fraction of a second. If no memorized settings are available, the tuner runs a full tuning cycle, storing the parameters for memory recall on subsequent tuning cycles on that frequency. In this manner, the mAT-K100 "learns" as it is used, adapting to the bands and frequencies as it goes.

As shown above, the front panel of the mAT-K100 is very simple. There are two indicator lights on the front panel, which are used to display the online/bypass status of the tuner and the power supply respectively.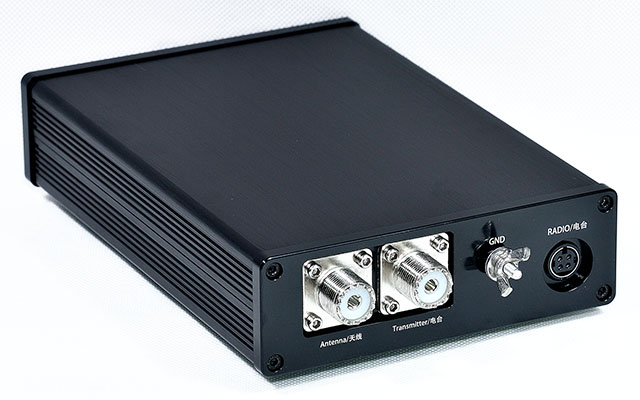 There are two kinds of control cables for mAT-K100: KENWOOD and ICOM. The control cable provides control signals between transceivers and tuner, and power supply for tuner. When the tuner starts, it can automatically identify whether the KENWOOD transceiver is currently connected or ICOM , and work with the corresponding software without any settings by the operator.

This is the KENWOOD control cable: mAT-CK, it is provided as a standard accessory along with the tuner.


This is the ICOM control cable: mAT-CI, it's not a standard accessory and needs extra purchase.

---